Mike Coffman has voted multiple times to defund Planned Parenthood, but that didn't stop him from featuring the logo of Planned Parenthood Action Fund in an ad released last week.
The ad states that "Coffman was praised for protecting women from violence." Then the words "Coffman 'showed courage'" are displayed on the screen next to the PPAF logo.
The ad concludes with praise from the Colorado Springs Gazette, calling him "practical" and "selfless."
Last year, Planned Parenthood praised 33 Republicans, including Coffman, for "showing courage" by voting for the Violence Against Women Act, which authorized funds to respond to domestic violence, sexual assault, and other violent acts against women.
"One vote on record supporting women does not make him a candidate we believe supports women's health," said Cathy Alderman, spokeswoman for Planned Parenthood Votes Colorado, in a statement. He has a consistent record of voting against women's access to reproductive health care services.
"In fact, Mr. Coffman voted to defund Planned Parenthood, which provides many important health services to Colorado women, including birth control, family planning services, life-saving cancer screenings and safe abortion services. This advertisement is a smokescreen for Mr. Coffman to hide his continual failure to be an advocate for Colorado women."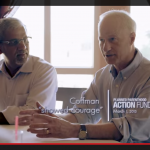 In his last vote against Planned Parenthood, in 2011, Coffman joined House Republicans in supporting Resolution 36 to the federal budget bill, stating that funding in the legislation "may be made available for any purpose to Planned Parenthood Federation of America Inc. or any affiliate of Planned Parenthood Federation of America Inc."
Coffman has a long anti-choice record, as a consistent supporter of state personhood amendments, which would ban all abortion, even for rape, as well as common forms of birth control. A Personhood USA leader once called him a "statesman" for not abandoning personhood.
Once, after an apparent misstatement on the radio, Coffman wrote a letter to radio-host Dan Caplis asking Caplis to claify on air that Coffman did not favor allowing abortion for rape and incest.
In March of this year, facing a tough challenge by pro-choice Democrat Andrew Romanoff, Coffman withdrew his support for state personhood amendments, and he announced he'd allow a raped woman to have the option of abortion.
Coffman's office did not return a phone call seeking comment.