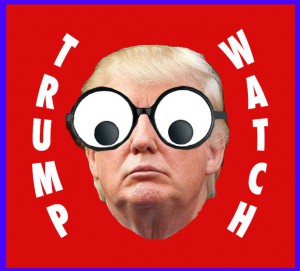 The local response to Trump's big win last night should catch the attention of journalists now, with Colorado Republicans coming to grips with Trump as the presumptive GOP nominee.
On the pro-Trump side, as I've blogged many times, there's apparently only one elected official in the state of Colorado who's actually factually called Trump one of her favorite candidates, and that's State Sen. Laura Woods of Westminster, whose race in November will likely decide whether Democrats take complete control of state government in Colorado. Yet, she's never been asked about her fondness for Trump. (See video below.)
As I chronicled previously, other Colorado Republicans are divided on whether they'll back Trump.
One Republican who's refused to say whether he'd support Trump is Rep. Mike Coffman, who's handling of Trump could affect the outcome of his contested congressional race in Aurora against Democratic State Sen. Morgan Carroll. (Rep. Ken Buck, who called Trump a "fraud," has also been undecided about backing the mogul.)
In February, Coffman wouldn't say if he'd get behind Trump, if Trump won the nomination. What say he now?
Then there's Colorado Sen. Cory Gardner, who thinks Trump cannot win. Back on Februray 4, three months before Donald Trump became the presumptive Republican presidential nominee, Gardner hopped on a Denver radio station and told the world (or at least a cloistered conservative corner of it) that Donald Trump cannot win the general election.
Gardner: 'The bottom line is this. There is only one way to prevent a third term of Barack Obama, and that is to elect a Republican nominee as president. I believe the only person who can win the November election and the Republican nomination is Marco Rubio." (Listen to the Feb. 4 podcast here at 7:20 or below.)
Whoops. Or maybe not?
Gardner, who once called Trump a "buffoon" and won't really say if he'd even support Trump,  is of course not the only Republican who said point-blank that Trump can never win in a general election. But what say he now that Trump is the Republican man of the year?
There's some interesting GOP explaining to do now, and let's hope we'll see journalists making sure it happens.
Listen to State Sen. Laura Woods on KNUS 710-AM Jan. 16, 2016
Listen to Cory Gardner on KNUS 710-AM's Dan Caplis Show Feb 4, 2016 (at 6 min 45 seconds)