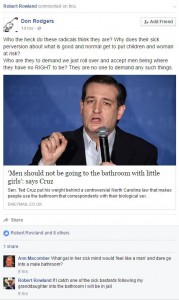 In a Facebook post last month, Elbert County (Colorado) Commissioner Robert Rowland wrote that he would end up "in jail" if he saw a transgender person enter a bathroom that was also being used by his granddaughter.
Rowland was commenting on an article, posted April 14 on Facebook, which quoted former Republican presidential candidate Ted Cruz as saying, "Men should not be going to the bathroom with little girls."
In the comment section, Rowland wrote,  "If I catch one of the sick bastards following my granddaughter into the bathroom, I will be in jail."
Rowland, whose Elbert County district is southeast of Denver, said Tuesday his Facebook comment was not a threat of violence.
"I'm a Christian man," Rowland said. "I'm not a violent man. I would certainly do one of two things. I would retrieve my granddaughter quickly or ask the person to refrain until she's finished."
With respect to going to jail, Rowland said, "Maybe somebody would get angry if I tried to delay them going in, while my granddaughter had a chance to get out. But that's about it."
"I'm an ex-cop," Rowland, a Republican, said. "I've put enough people in jail. I don't want to be on the other side."
"It is an emotional issue for everybody," he said.
Asked for a response to Rowland's comment, One Colorado Political Director Laura Reinsch pointed out that there's no record of any criminal problems with transgender people using bathrooms in Colorado.
"Transgender Coloradans are not 'sick,'" said Reinsch via email. "They only want to live their lives like every other Coloradan does, and that includes being able to use the bathroom without harassment. Since 2008, Colorado law has allowed transgender people to use the bathroom that reflects their gender identity, and there hasn't been one instance of a transgender person assaulting anyone in a bathroom in our state. The language used by Commissioner Rowland is offensive and misrepresents the experiences of transgender people.

"Transgender Coloradans are our friends, neighbors, and family members, and they deserve to be treated fairly and with respect."
Even in North Carolina, where state legislators passed a law requiring people to use the bathroom corresponding to the sex on their birth certificate, there is no record of assaults by transgender people in bathrooms.
This accusation has been called the anti-LGBT "bathroom-predator myth," and on Monday the federal Justice Department sued North Carolina, arguing that its law is discriminatory.
Robert Rowland