UPDATE: Everett and Holbert continue going after Keyser.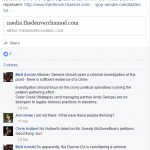 —————
Never afraid to withhold his opinion when it comes to U.S. Senate candiate Jon Keyser, Rep. Justin Everett (R-Littleton) unleashed these Facebook posts this week:
Everett: "Sadly this is classic Keyser, saw this quite a few times in the year we served together in the legislature. Again, this guy is not ready for prime time…

A couple things here:
#1 – Again Keyser is not ready for prime time and his validity as a candidate will dog him for the rest of the campaign
#2 – Clearly the Secretary of State has a flawed review process; I may be working on legislation to address this next year
#3 – Go through the caucus and assembly process. Less expensive and you'll KNOW if you've made the ballot."
Everett was a supporter of Sen. Tim Neville (R-Littleton), another GOP U.S. Senate candidate who failed to make the Republican GOP primary ballot.
But Everett's attack highlights the absence of any GOP support for Keyser in the copious media coverage of his refusal to answer questions about forged signatures on his ballot-access petition.
What you do see are Republicans like Everett and Rep. Chris Holbert, who wrote on Facebook of Keyser:
Holbert: "Sweat, shuffle around nervously, evade the question, and blink a lot nervously. Nailed it!"
The GOP response is key, at least for now, because it's Republicans who will determine whether Keyser faces Democratic Sen. Michael Bennet in November.
And the signs, beyond the attacks from Keyser's expected GOP critics, aren't looking good–as in there are literally no signs of GOP support for Keyser.
The Republican audience at yesterday's debate at the Foothills Republican Club didn't respond well to Keyser's spin, as reported by The Denver Post's John Frank:
The debate's first four questions involved the petition issue, and Keyser refused to answer all of them.

"Here's the important thing. I'm on the ballot, and I'm going to beat Michael Bennet," Keyser said in a line he repeated five times in two minutes.

The response drew groans from the crowd and a shot from GOP rival Darryl Glenn who said the issue is important to the candidate's integrity.

"If you are going to stand for the rule of law, if you are going to raise your hand and support the constitution, then you need to follow the law," Glenn said to applause. "That's the issue."
So at this point, it looks like no one is supporting Keyser, not even any of Keyser's allies. That's a key point that journalists should document in more detail as we move forward.