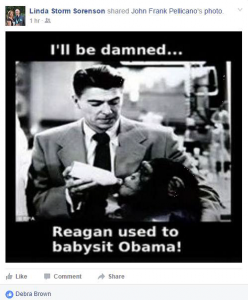 Delta County Republican Chair Linda Sorenson shared an image on her Facebook page last week depicting Ronald Reagan nursing a chimpanzee. The photo is sandwiched by the phrase, "I'll be damned… Reagan used to babysit Obama."
Sorenson told me in a very brief phone interview today that it was a joke.
"I really don't care if people are offended by it," she told me of the post, which was sent to me by a source. "Un-friend me. Stop looking at me on Facebook."
A similar photo was among a group of images exchanged via email among Ferguson, Missouri police and a city official, according to a 2015 report in the Washington Post, which obtained the emails as part of a public records request. The three officals involved were fired. The Post reported at the time:
City officials in Ferguson, Mo., on Thursday evening released the full, unredacted content of racially charged and religiously insensitive e-mails sent by the city's former court clerk as well as two former supervisors in the police department.

The e-mails, released to The Washington Post in response to a public-records request, were sent and received by Mary Ann Twitty, who was Ferguson's court clerk, as well as former Ferguson police captain Rick Henke and former police sergeant William Mudd. All three were removed from their jobs after the Department of Justice discovered the e-mails, which prompted an internal investigation by city officials. The unredacted versions show for the first time which employee sent which e-mails.