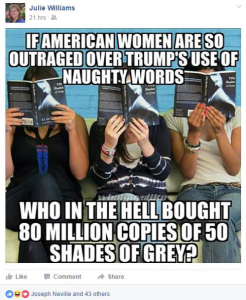 If you've been tracking ousted Jeffco school board member Julie Williams, you know she's been keeping her hand in politics with occasional salvos on Facebook.
One of her Facebook causes has been to promote Republican state senate candidate Laura Woods of Arvada, urging people to vote not only for Woods but for Trump and others.
Now Williams is back on Facebook defending Trump's ugly comments about sexually assaulting women. She shared a Facebook meme, popular among Trump supporters, that somehow equates 50 Shades of Grey to Trump's comments.
The meme reads, "IF AMERICAN WOMEN ARE SO OUTRAGED OVER TRUMPS' USE OF NAUGHTY WORDS, WHO IN THE HELL BOUGHT 80 MILLION COPIES OF 50 SHADES OF GREY?"
There's no logic in equating the book with Trump's comments, and Williams isn't on the ballot.
But how could her tenure on the school board and her continued craziness not be an under-the-media-radar factor in the upcoming election. I wish we'd see more coverage of this dynamic there.
It's hard to imagine that Trump, Woods, or any candidate will gain much by Williams' Facebook crusading. Exactly the opposite.