A familiar pattern among GOP candidates in Colorado has been to openly oppose gay-marriage during primary season and then try to sweep such positions away for the general election.
You have to doubt that this week's developments on gay marriage will change this dance,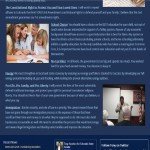 as exemplified by >GOP state senate candidate Tony Sanchez.
Sanchez came out strong against same-sex marriage prior to his unexpected primary victory in June, stating on his campaign website at the time:
Sanchez: "I will protect the lives of the most vulnerable, defend traditional marriage, and protect your right for personal/religious liberty."
But shortly after his primary win, the "Pro-life, Pro-family, Pro-liberty" section of his website, including his promise to "defend traditional marriage" vanished completely, in an apparent makeover move for Jeffco voters.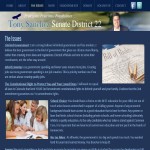 The cleaning up of his website apparently hasn't done much to help Sanchez raise money. Sanchez and fellow Rocky-Mountain-Gun-Owner-backed candidate Laura Woods are lagging way behind their non-RMGO-backed GOP counterparts from the 2012 election cycle.
Sanchez and Woods are running in swing Jeffco state Senate districts that Republicans had hoped might flip the state senate over to the GOP.
Here is a comparison, from campaign finance reports, of Sanchez'  fundraising totals in 2014 (vs. Summers' in 2012) to Laura Woods'  fundraising totals in 2014 (vs. Sias' in 2012):
Ken Summers (SD 22 candidate in 2012)
Total raised (full cycle): $ 130,000
Cash-on-hand (Oct. 1) : $ 80,000
Tony Sanchez (SD 22 candidate in 2014)
Total Rasied (Oct. 1) $ 69,000
Cash on hand (Oct. 1): $ 19,000
Lang Sias (SD 19 Candidate in 2012)
Total raised (full cycle): $ 123,000
Cash on hand (Oct. 1): $ 74,000
Laura Woods (SD 19 Candidate in 2014)
Total Raised (Oct. 1): $ 99,000
Cash on hand (Oct. 1): $ 27,000