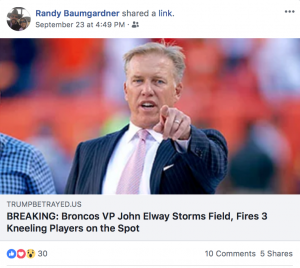 State Sen. Randy Baumgardner (R-Hot Sulphur Springs) shared a fake news article on his Facebook page this week titled, "BREAKING: Broncos VP John Elway Storms Field, Fires 3 Kneeling Players on the Spot."
You'd think that little or no depth of thought would be required to question the veracity of this alleged news article, in part because everyone in the state of Colorado and the world would have heard about it–and seen it on TV ad nauseum–if it were a fact.
But who would expect Baumgardner to take five-and-a-quarter seconds to visit the Google and check his own facts before hitting the share button on Facebook, given that Baumgardner has repeatedly poisoned us with fake news in the past? And he's an elected official?
Actually, it took me three-and-a-half seconds, not five-and-a-quarter, to confirm that the Elway news was fake. Read it in Snopes, the fact-checking entity used by Facebook itself:
None of these events took place. The Broncos have no players named Mavius Malphner, Ladamian Brown, or DeShaq Darq. Like everything published by America's Last Line of Defense, the article is fake.

However, some readers mistakenly believed it to be authentic, as demonstrated by the many earnest comments on the Facebook page of America's Last Line of Defense.

That Facebook page and website (currently operating at the URL "trumpbetrayed.us") are part of a network of junk news sites that engage in political trolling, much of it racially-charged and inflammatory, presented as "satire."
Baumgardner once posted a fake story claiming that Obama actually replaced American flags in the White House with "Muslim prayer curtains." (Read about this and more here.)
Only seven Colorado legislators have signed a pledge not to post fake news on their social media accounts, even though elected lawmakers in Colorado have been repeatedly caught posting false information, made to look like real news, on Facebook.