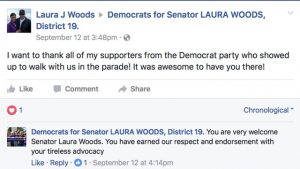 Republican State Sen. Laura Woods of Arvada has removed a post from her Facebook page, in which she thanked alleged "supporters from the Democrat Party."
It appears that Woods was referring to members of a Facebook group called, "Democrats for Senator Laura Woods," who joined with Woods at a parade last month. "It was awesome to have you there," Woods wrote on Facebook.
As I posted last week, none of the group's members have been shown to actually live in Woods' district and so they cannot vote for her, with one member registered to vote as far away as Boone, North Carolina.
Another group member, pictured on the site, was registered as a Republican, until asked about his voter registration last week, at which time he registered as a Democrat, saying it was a mistake.
Woods did not return a call seeking an explanation for removing the post.
In addition to possible concerns about the group's members who can't vote for her, Woods may worry that promoting Democrats on her site would turn away Trump supporters, whom she says are a key part of her path to victory in her district.
Woods, who's long supported Trump and forgives him for his lewd comments, told a Denver radio station last week:
"I think if Donald Trump wins my district, I'm likely to," Woods said on air. "And if Hillary Clinton wins my district, my opponent is likely to win."