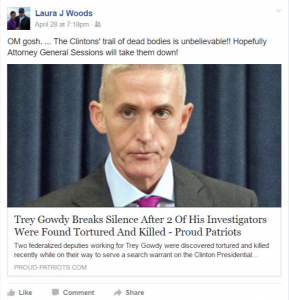 Despite the example set by Trump, it seems that public figures in Colorado are being more careful about posting fake news on their Facebook pages than they were prior to the last election.
And to their credit, some officials in Colorado are removing fake news, if they are convinced it's inaccurate.
But former State Rep. Laura Woods (R-Westminster), who lost her state senate seat in November, apparently hasn't gotten the memo about how fake news rots civic discourse, not to mention representative government.
She apparently posted this fake news item, provided to me by a source, last week, headlined, "Trey Gowdy Breaks Silence After 2 of His Investigators Were Found Tortured and Killed-Proud Patriots."
Woods apparently commented, "OM gosh…The Clintons' trail of dead bodies is unbelievable. Hopefully Attorney General Sessions will take them down."
It appears that Woods refused to remove the fake news, even after a someone on her Facebook feed pointed out that it was debunked by Snopes.
Woods doesn't return my calls, but I invite her to sign the Fake News Pledge for Citizens here.
But it appears she may have found her own way to deal with Fake News, with a site offering right-wing radio host Mark Levin, right-wing columnist Michelle Malkin, and others: