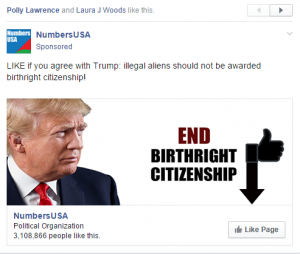 In a Facebook post last week, State Sen. Laura Woods (R-Westminster) came out against birthright citizenship, the U.S. policy granting citizenship to people born on American soil, even if their parents are not citizens.
The debate about birthright citizen was largely confined to hard-right conservative circles, until Donald Trump came out against it in August, as part of his immigration platform, sparking high-profile debate among Republican presidential candidates and pundits.
Woods, who has said Trump is her second favorite presidential candidate, "liked" a Facebok post, sponsored by Numbers USA, which read:
LIKE if you agree with Trump. Illegal aliens should not be awarded birthright citizenship!

A graphic shows a photo of Trump with the text, "End Birthright Citizenship."
Trump's immigration platform also calls for the rounding up and deportation of  America's estimated 11 million undocumented immigrants to their country of origin. From there, they'd be free to apply to become U.S. citizens.
Woods' office did not immediately return a call for comment on whether she agrees with Trump's immigration policy in its entirety–or whether she'd want to rescind citizenship from millions of immigratns who've become U.S. citizens under America's birthright-citizenship law.
Most other Colorado politicians have been silent on birthright citizenship, but as recently as 2013, Rep. Mike Coffman confirmed his opposition to the policy, in an interview with The Denver Post, saying "sure" he'd like to abolish birthright citizenship.
Back in 2011, Coffman cosponsored a bill that would have abolished birthright citizenship.
Both Woods and Coffman represent swing districts where anti-immigration positions could turn off immigrant voters. About 20 percent of Coffman's district is Latino.
Woods won her Westminster seat by about 650 votes in 2014, while Coffman has been seen as vulnerable since his district was re-drawn after the 2010 census. Coffman narrowly defeated a Democrat in 2012 and won by a larger margin in 2014.