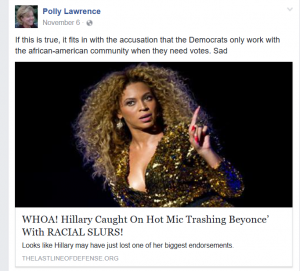 Colorado State Rep. Polly Lawrence (R-Roxborough Park) has set an example for lawmakers everywhere, from Trump on down, by removing a fake-news item from her Facebook page.
On Wednesday, I left a phone message for Lawrence, alerting her that back in Nov. she'd posted fake news with the headline, "WHOA! Hillary Caught On Hot Mic Trashing Beyonce' with RACIAL SLURS! Looks like Hillary may have just lost one of her biggest endorsements."
The day after I called her, Lawrence removed the fake news.
The fakeness of the Lawrence's post was never in doubt from the moment she posted it.
The website called "The Resistance: The Last Line Of Defense," which published the Beyonce' fake news, has a disclaimer, which reads:
DISCLAIMER: The Resistance may include information from sources that may or may not be reliable and facts that don't necessarily exist. All articles should be considered satirical and any and all quotes attributed to actual people complete and total baloney.
What's more, Snopes determined on Nov. 5, the day before Lawrence posted the item, that the Beyonce' item was false.
Still, Lawrence posted the fake news with the comment, "If this is true, it fits in with the accusation that the Democrats only work with the African-American community when they need votes."
But you know what's great? Lawrence accepted criticism and removed the fake news.
Why? Because fake news causes cancer in civic discourse. That was diagnosed and then proven in the last election.
At least I think that's why Lawrence removed it. She didn't return my call, which is too bad because I would have heaped even more praise on her.
In my phone message, in which I thanked Lawrence for removing the fake news, I asked her if she'd sign the Fake News Pledge, which is a promise 1) not to post fake news, defined as false information "packaged to look like news," and 2) to post a correction and explanation on Facebook if fake news is accidentally posted. The Pledge's arbiters of fake news are Snopes, Politifact, Factcheck.org, or a respected news outlet. If Pledge signers disagree with the specified arbiters, they do not have to remove anything from Facebook. But they are obliged to explain why they disagree with the fact checkers.
Lawrence did not respond to my request that she sign the Fake News Pledge, and she still has at least one fake-news meme on her site, with a misquote of Obama, which I'll ask her about later.
Lawrence is the second Colorado state lawmaker to remove fake news from their Facebook pages, since last year when I posted an investigation showing that five legislators had spread a total of eight fake news items on Facebook.
After she became aware of her fake news post, then State Rep. Kit Roupe (R-Colorado Springs), removed it, telling me, "If it was false, and it came to my attention that it was false, then of course I would [remove it]." (Roupe also didn't respond to my request to sign the Fake News Pledge, and she has since left office.)
The three other lawmakers cited in the BigMedia.org investigation have refused to delete fake news. Rep. Gordon Klingenschmitt (R-Colorado Springs) refused to believe that Scalia was not, without a doubt, assassinated by the Clintons. And State Sen. Tim Neville (R-Littleton) refused to remove two items deemed false by fact checkers from his Facebook page. State Sen. Laura Woods (R-Arvada), who's left office as well, did not respond to my requests that she remove fake news from her Facebook page.
U.S. Rep. Jared Polis, a Democrat representing the Boulder area, also acted honorably this month by deleting a fake-news tweet, in the wake of a Twitter discussion referencing the Fake News Pledge.