Thursday, May 29th, 2014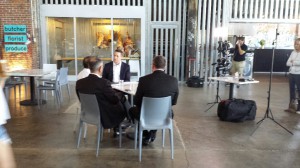 Local TV public affairs shows are usually shot deep inside TV stations, where the light of day and the reality of everyday life can be hard to find.
Fox 31 Denver's Eli Stokols has dispensed of this problem by staging his new public affairs TV program at The Source, which is a collection of restaurants and food markets with a fresh and local thread.
"We're trying to do a show about local issues, local politics, local ideas," Stokols told me. "We want it to be a public conversation. It felt right to locate that conversation in a public space outside the stuffy confines of a TV studio. We want the show to be accessible and more appealing than people in a studio."
With sides of local beef dangling behind him, Stokols will give newsmakers and others a chance to talk about public policy "outside of the two-minute construct of a TV package." Sometimes he'll take the show further on the road, possibly for debates or other relevant events. (Above, Stokols interviews Rep. Ed Perlmutter at The Source.)
"I don't know that there's a need for another show with three of four people sitting around talking about the news of the week," said Stokols, adding that Denver already has a good one on Channel 12.  His half-hour weekly show, which debuts Sunday at 9 a.m. on Fox 31 and is called #COPolitics from the Source, might have that format sometimes, he says, but "what we'll do more often is take a policy area, bring in some people, and even if it's not politics per se, have them engage."
#COPolitics is a Twitter hashtag followed by people interested in Colorado politics, and using #COPolitics in the title is a signal that the show is "an extension of the conversation that takes place on that Twitter feed," says Stokols, who, among other journalistic activities, is a weekend anchor on Fox 31.
Stokols credits KDVR Fox 31 General Manager Peter Maroney for pushing the idea of a new public affairs show, but convincing the station to get behind an off-site concept took some work, especially because there's no sponsorship dollars in it for KDVR. But the bosses came around, and station staff stepped up, says Stokols.
Having dumped Zappolo's People, with the departure of longtime anchor Ron Zappolo, Fox 31 is now jumping into a surprisingly crowded market of local television public-affairs programs, mostly on public television, but also on commercial competitor 9News, which has just re-committed to a monthly show called Balance of Power. The latest installment, airing Saturday at 6 p.m. on 9News and 9:30 p.m. on channel 20, features a debate on fracking between Rep. Jared Polis and oil-and-gas-industry leader Tisha Schuller.
"This is a notoriously difficult area of programming, and it's only getting harder because of the expanding media landscape, with newspapers jumping in, streaming content available from different providers, and the bread-butter-guys who have been around for a long time," said 9News political reporter Brandon Rittiman, who moderates Balance of Power, along with 9News Anchor Kyle Clark.  "On the other hand, there's a greater demand for original content. And media companies are realizing that too."
The 9News show  will most often focus on one topic, broken down into segments, including at least a few minutes of analysis by "political experts" Ryan Frazier (Republican) and James Mejia (Democrat), says Rittiman, adding that 9News is trying hard to make the show look good and keep it "interesting, entertaining, and informative at the same time."
9News has officially retired the public affairs program YourShow, which solicited topics and questions from viewers and was launched by former political reporter Adam Schrager. "The concept of YourShow was ahead of its time but quickly, with social media, has become part of what we do every day, reaching out to people and making sure they can have their say and get their questions in." said Rittiman. "That's worked its way into all aspects of news coverage."
Public affairs shows on public television include: KBDI Channel 12's Colorado Inside Out (Hosted by Dominic Dezzutti), KRMA Channel 6's Colorado State of Mind (Hosted by Cynthia Hessin), Aurora municipal TV Channel 8's Dateline Aurora, and the Independence Institute's Devils Advocate (which ludicrously presents libertarian Jon Caldara as moderator).
The Denver Post produces a sporadic video interview show called Spot Live, which is currently being revamped from a square-off between pundits, moderated by a reporter, to one-on-one interviews with newsmakers.
Of the non-commercial TV shows, my favorite is still Colorado Inside Out, even though I have to excuse myself and barf on occasion, which is proof I don't fall asleep as I watch. In spite of the simple talking-heads format, the show doesn't bog down as it moves through the views of regular and rotating panelists.
"We all know how much money will be coming into Colorado for issues and campaigns," said Colorado Inside Out host and producer Dezzutti via email. "Most of that money is spent on ads that are not meant to educate voters, but rather persuade by any means necessary. The only way Colorado voters can cut through the fog of incessant attack ads is to look to quality public affairs programs that are willing to go beyond the 30 second sound bite. Fox31's new show affirms that need and shows that Colorado voters are ready for more alternatives to the constant 30 second ad bombardment. As the producer and host of Colorado Inside Out, now in its 22nd season, we are excited that another Denver TV station is stepping up and providing this kind of critical analysis that Colorado voters need and deserve."
Colorado Inside Out's panelists have a sense of humor, which goes a long way.
That's a quality Fox 31's Stokols admires in two of his favorite interviewers CNN's Jake Tapper and CBS' Bob Schieffer.
"Those  guys to me don't take themselves too seriously," says Stokols. "They take their job very seriously. They don't take themselves quite as seriously. And that's the way I try to approach it. When I anchor the news, I do it with a smirk on my face. Journalism is very important, but you don't have to be a pompous fake to get your point across."
That is, as long as anyone is watching.