Monday, January 1st, 2018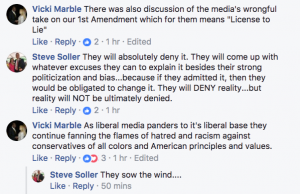 Colorado State Sen. Vicki Marble (R-Fort Collins), who falsely claimed last month that she was misquoted by a Boy Scott, stepped up her complaints about the "liberal media" in a Facebook post last month.
"As the liberal media panders to its liberal base, they continue fanning the flames of hatred and racism against conservatives of all colors and American principles and values," Marble apparently wrote last month in a Facebook post obtained from a source.
Specifically, Marble called KMGH-TV, Channel 7, "lame."
Marble didn't return an email seeking an explanation, but her attack on the media may stem from frustrations over press coverage of a speech she gave to a group of Boy Scouts in October.

Marble insisted that Denver media outlets were wrong to point out that she'd delivered a falsehood to a den full of Scouts, after one Scout told her that he was astonished that Marble had, as the Scout put it, "blamed black people for poor health and poverty because of all the chicken and barbecue they eat."
Marble responded to the scout, fifth graderAmes Mayfield, that he she'd made no such statement.
"I didn't, that was made up by the media," Marble told Mayfield in the den. "So, you want to believe it? You believe it. But that's not how it went down. I didn't do that. That was false. Get both sides of the story."
In fact, Marble made the following statement during a 2013 hearing: "When you look at life expectancy, there are problems in the black race. Sickle-cell anemia is something that comes up. Diabetes is something that's prevalent in the genetic makeup, and you just can't help it.

"Although I've got to say, I've never had better barbecue and better chicken and ate better in my life than when you go down South and you, I mean, I love it. Everybody loves it."
The Scout was eventually booted from his den, but allowed to continue with another group of Boy Scouts.