Wednesday, November 2nd, 2016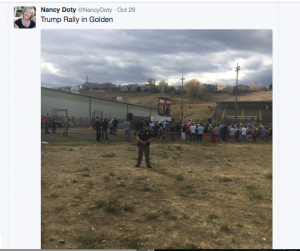 The story of Trump's impact on down-ballot races Colorado is unfolding in front of us in the strangest ways, with Colorado Republicans going every which way when it comes to the mogul.
A unique approach to Trump has been taken by Arapahoe County Commissioner Nancy Doty, who's running against Democrat Daniel Kagan in a Cherry Hills state-state race that Democrats must win to take control of the chamber.
Doty said in June that she'd support Trump, and later called Sarah Palin's endorsement of Trump "spot on."
But then she told the Aurora Sentinel last month that her vote is a "private decision." The Denver Post reported most Oct. 23 that Doty's not commenting on Trump.
But lo, Doty tweeted a photo Saturday from her apparent appearance at the Trump rally in Golden, without comment, as if to say, "Look! I'm still voting for Trump, but a secret is a secret."
But in any case, on election night, reporters should reflect on what's worked Trump-wise for Colorado Republicans in tight races. The Doty approach?
State Sen. Laura Woods' I-Believe-Trump-Will-"Lead-our-Country-to-Greatness-Once-Again" strategy.
U.S. Rep. Mike Coffman's strategery of dodge trump (December), then yes Trump (February), then maybe Trump (May and August), then no Trump (October). And possibly no one (October).
We'll never know Trump's exact impact in Colorado's down-ballot races, but that shouldn't stop reporters from having fun trying to figure it out anyway on Tuesday night, using our abundant local material.